How to Make Badam Milk
It's very simple to make badam milk at home. You need only a handful of ingredients-
Milk: you get the best results with whole milk. Having said that, you can make badam milk with low fat milk as well but whole milk makes it thicker and creamier.
Almonds: I use a lot of almonds in my almond milk because I want the almond flavor to be prominent. You can adjust the quantity as per your preference.
Sugar: Of course you need some sweetener for this drink. I use regular sugar, you can use any sweetener that you like.
Cardamom: My favorite spice and also a key ingredient here. I used fresh cardamom pods, crush them in a mortar & pestle and then use in the recipe.
You can use store bought cardamom powder, the pods just give better flavor here.
Saffron: It not only gives the badam milk a nice yellow color but also make it aromatic. The key to getting a nice color is crush saffron strands with your hands and then add in 1 to 2 tablespoons of hot milk.
Rose water: this is optional, but I love adding it to my badam milk!
Method
1- Soak almond in hot water for 20 minutes.
2- After 20 minutes, discard the water and then remove the skin from each almond. It will come off easily.
3- Transfer blanched almonds with ¼ cup milk to a blender.
4- Blend to a smooth paste. Set it aside.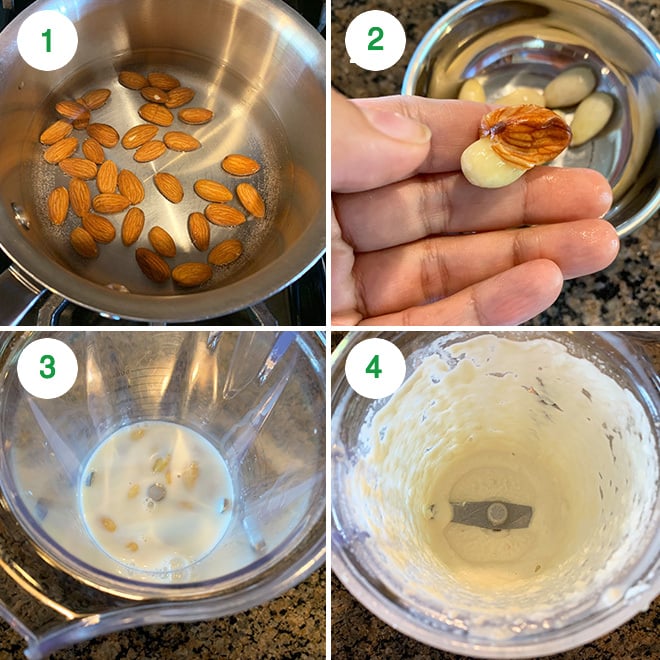 5- Now transfer the remaining milk to a pan and put in on medium-high heat.
6- As the milk warms up, take out 1 tablespoon of the warm milk from the pan into a small bowl and add crushed saffron strands to it. Set aside.
7- Once the milk in the pan comes to a boil, add the prepared almond paste to it. Stir to combine.
8- Lower the heat to low medium and let the milk simmer for 15 to 20 minutes. Stir often so that milk doesn't get stuck to the bottom of the pan. The raw smell of almonds should disappear completely.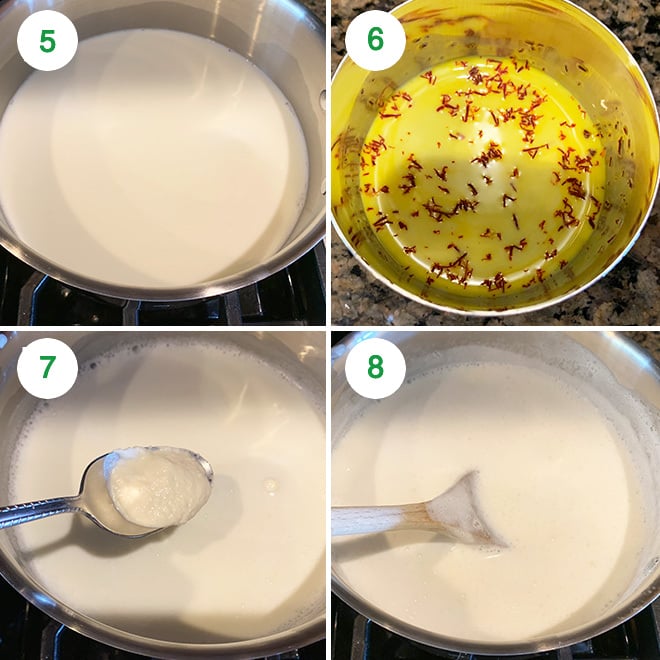 9- Add in the saffron milk that you had set aside.https://2dae8240a57eff6730d6e598216134e1.safeframe.googlesyndication.com/safeframe/1-0-38/html/container.html
10- Then add the sugar and stir until it's dissolved
11- Finally add in the crushed cardamom seeds. You may also add rose water (if using) at this point.
12- Mix everything together and turn off the heat.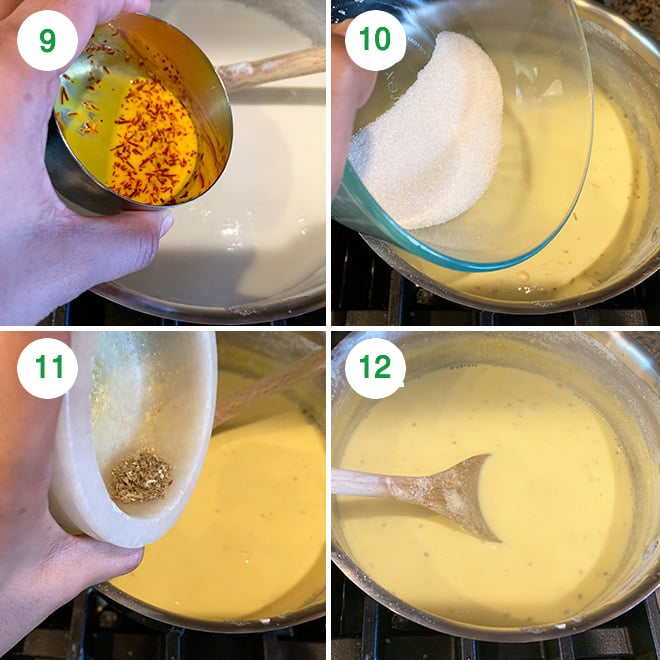 Serve badam milk hot or cold. I personally love it chilled.