Step 1 – Preparation And Marination
1. To begin with, first, add all the ingredients mentioned under "to grind to paste" into a blender and blend it to a fine paste.
2. Then, in a large bowl, add ground paste, ¼ cup fried onions, whisked curd, and garam masala powder along with salt.
3. Now, add clean and washed mutton and mix well.
4. Allow the mutton to marinate for at least 2 hours (preferably over night) under refrigeration.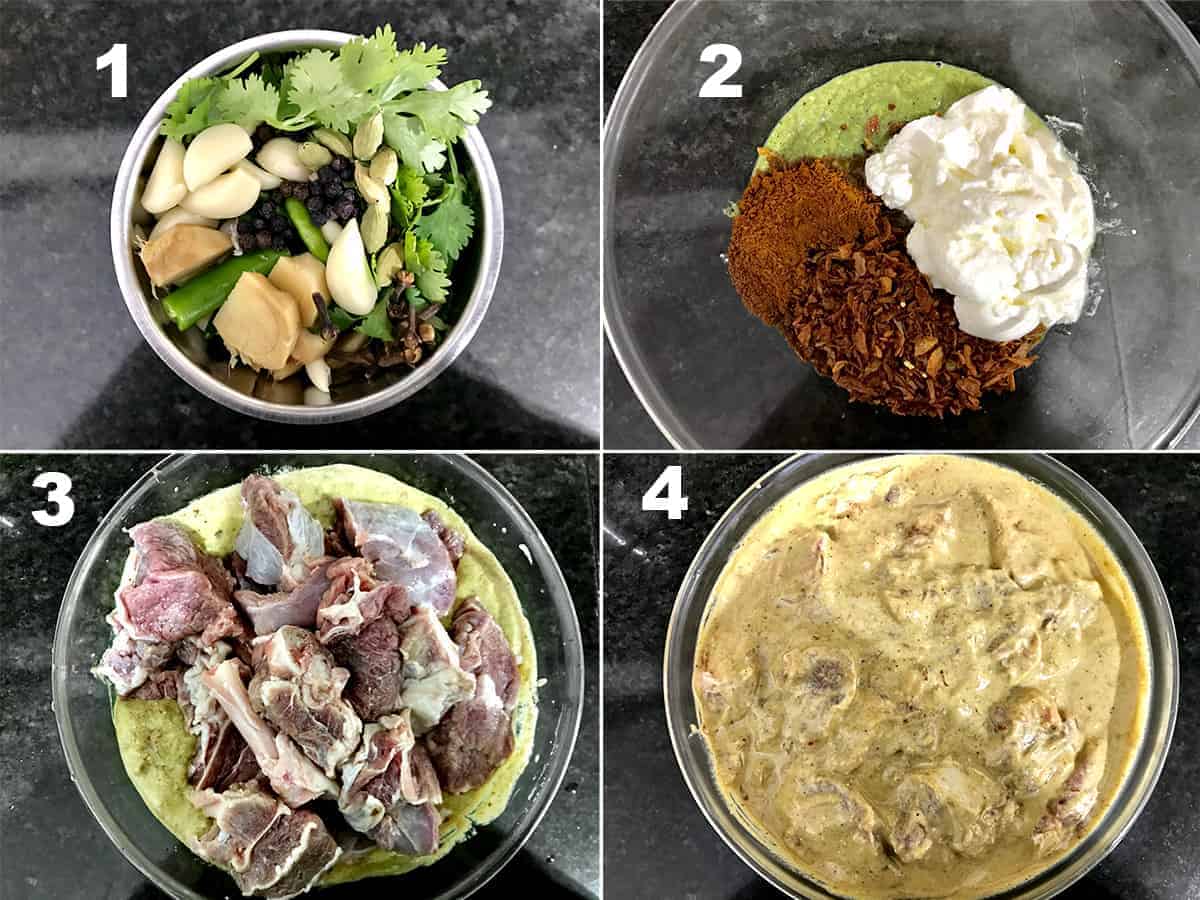 Step 2 – Frying The Potatoes
5. Once the mutton is ready to cook, then heat oil in a pan, add potato cubes.
6. Fry the potatoes until golden. Then take them out and set it aside for later use.

Step 3 – Cooking The Mutton Biryani Gravy
7 & 8. First, heat oil in a heavy bottom pan or handi. Then, add sliced onions, salt and fry until pink.
9. Once the onions softens, add cinnamon sticks and cumin seeds and cook.
10. Fry everything until onions starts picking up golden colour, do not over
brown or burn it.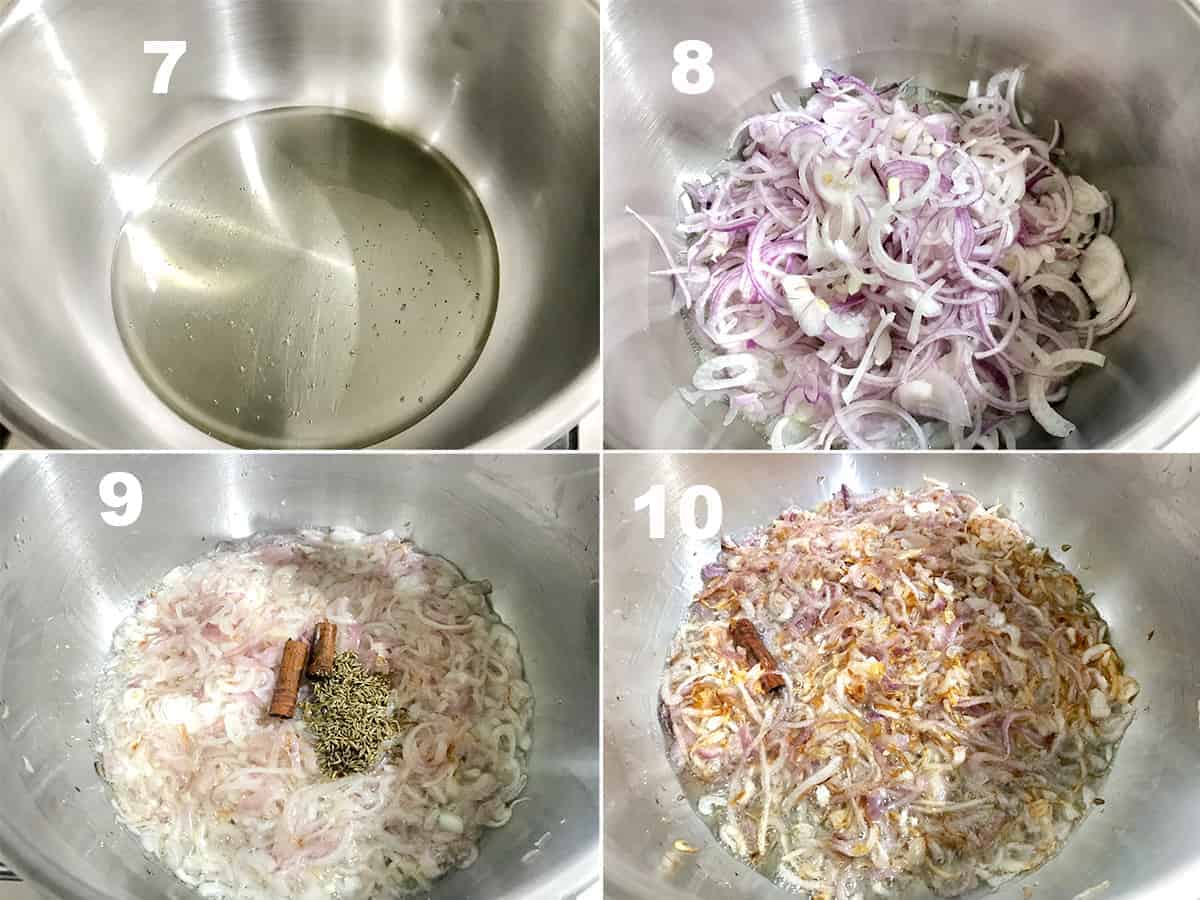 11. Now, add marinated mutton and sauté on high 5-6 minutes until raw small goes off.
12. Then, add red chilli powder, turmeric and coriander powder and mix. Now, add 2 cups of water, cover and cook the mutton until tender.
This will take approx 50 minutes as I have made it in handi. Do not over cook the mutton at this stage. Keep stirring in between to avoid burning. If water dries up, you may add more.
Note : You can make it pressure cooker as well to save time. Also, make sure, if you are cooking it in pressure cooker, do not add to much water at a time. We need to cook it such that not much water is left in cooked mutton.
13. Now, add tomato slices, fried potatoes and chilies and cook for another 5 minutes.
14. You will see oil layer on the top, and mutton masala has not much water into it. This is the perfect mutton masala for biryani recipe. Now, carefully scoop out the layer of oil in a bowl and set it aside for later use.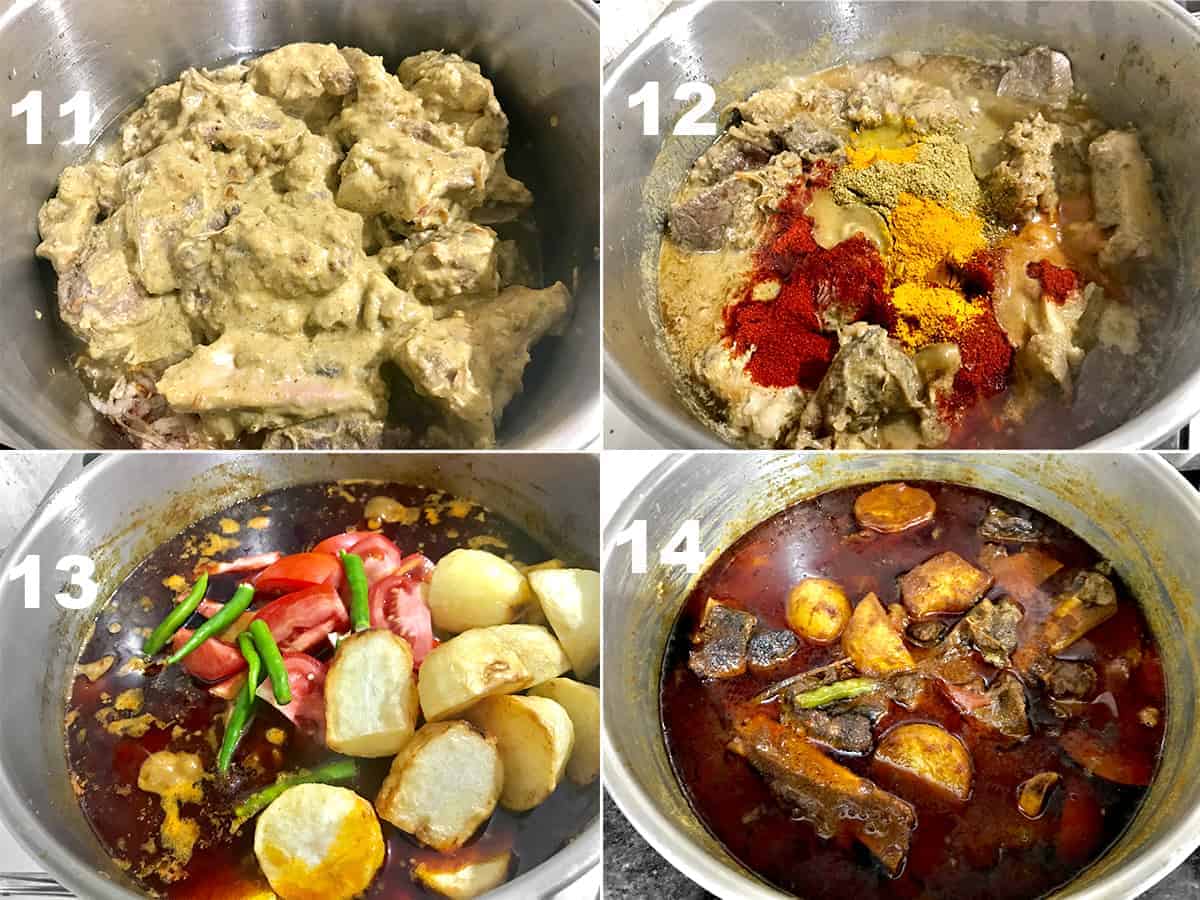 Step 4 – Cooking The Rice
15. While the mutton cooks, clean and wash the rice and soak it for 45 minutes.
16. Then, in a large pot, add enough water, bay leaves, cinnamon sticks, shajeera (or cumin seeds), cloves, cardamom, star anise, ghee and salt. Bring it to a boil.
17. Once the water starts boling, starin the soaked rice and add into boiling water.
18. Cook the rice until 90 percent done.
Note : Do not over cook or rice will get sticky and will break in biryani. Immediately strain the water and set the rice aside.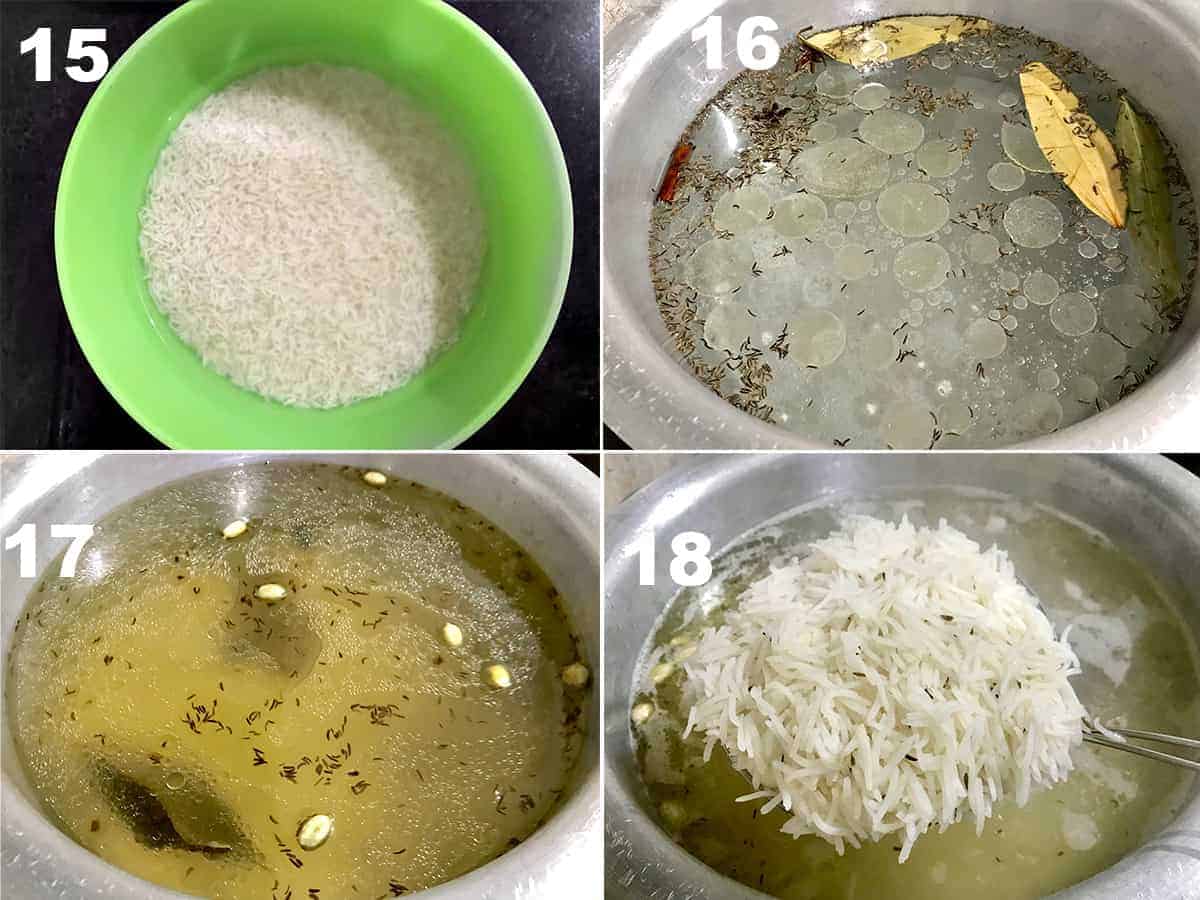 Step 5 – To Layer The Biryani
19. Now, in a large pot in which you want to slow cook or dum the rice and meat, add half the cooked rice as a bottom layer.
20. Then, add the cooked mutton and spread evenly.
21. Sprinkle mint leaves, 1 tablespoon ghee, ½ of the soaked saffron and birista.
22. Then, add the remaining rice over the meat layer evenly.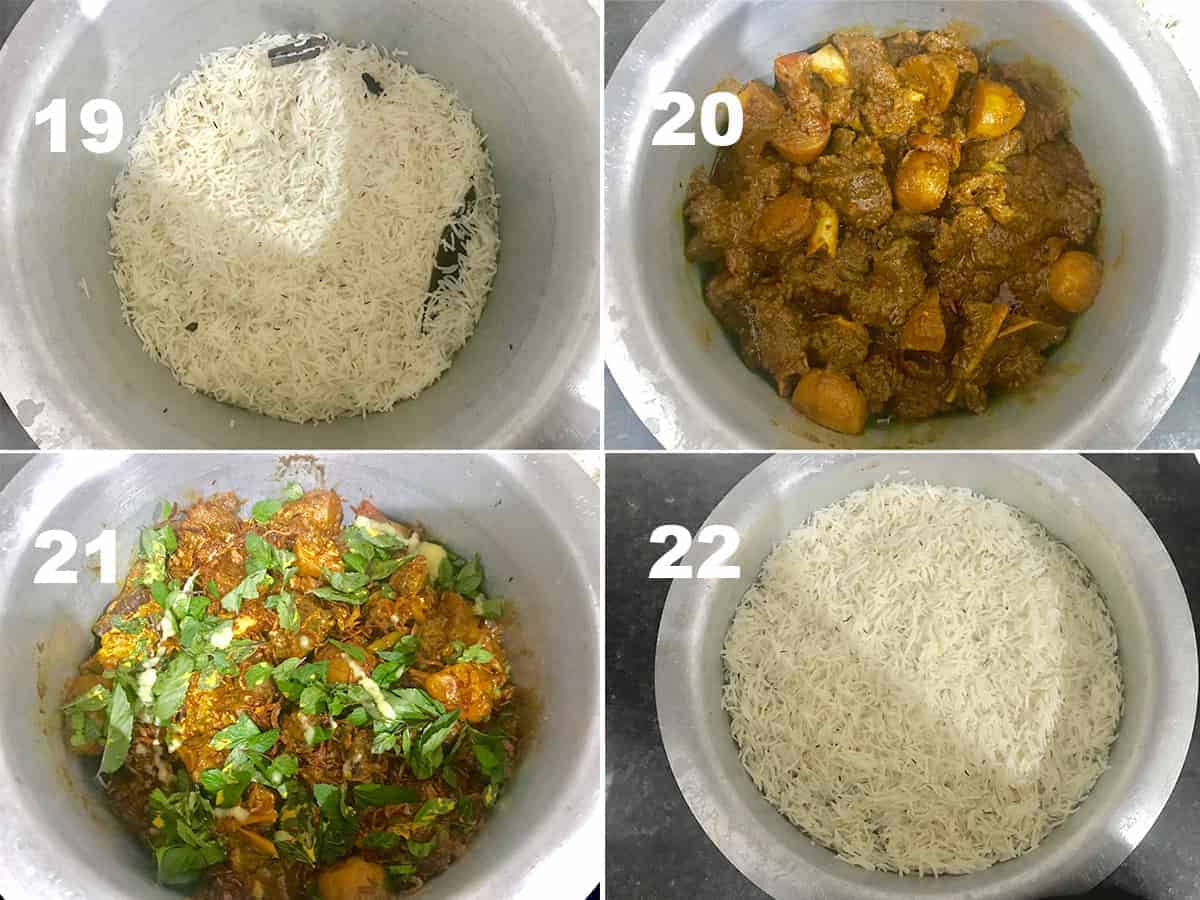 23. Now, pour remaining ghee, saffron milk and reserved oil that we scooped out from the masala gravy.
24. Finally, put a clean cotton cloth over the top and cover it with the lid putting heavy weight on the top of the lid. Slow cook (dum) the biryani for 20 minutes, first on high flames for 5 minutes and then simmer for 15 minutes.

Once the biryani is done, allow it to rest for 15 minutes. Then carefully dish out the mutton biryani. Serve with raita of your choice.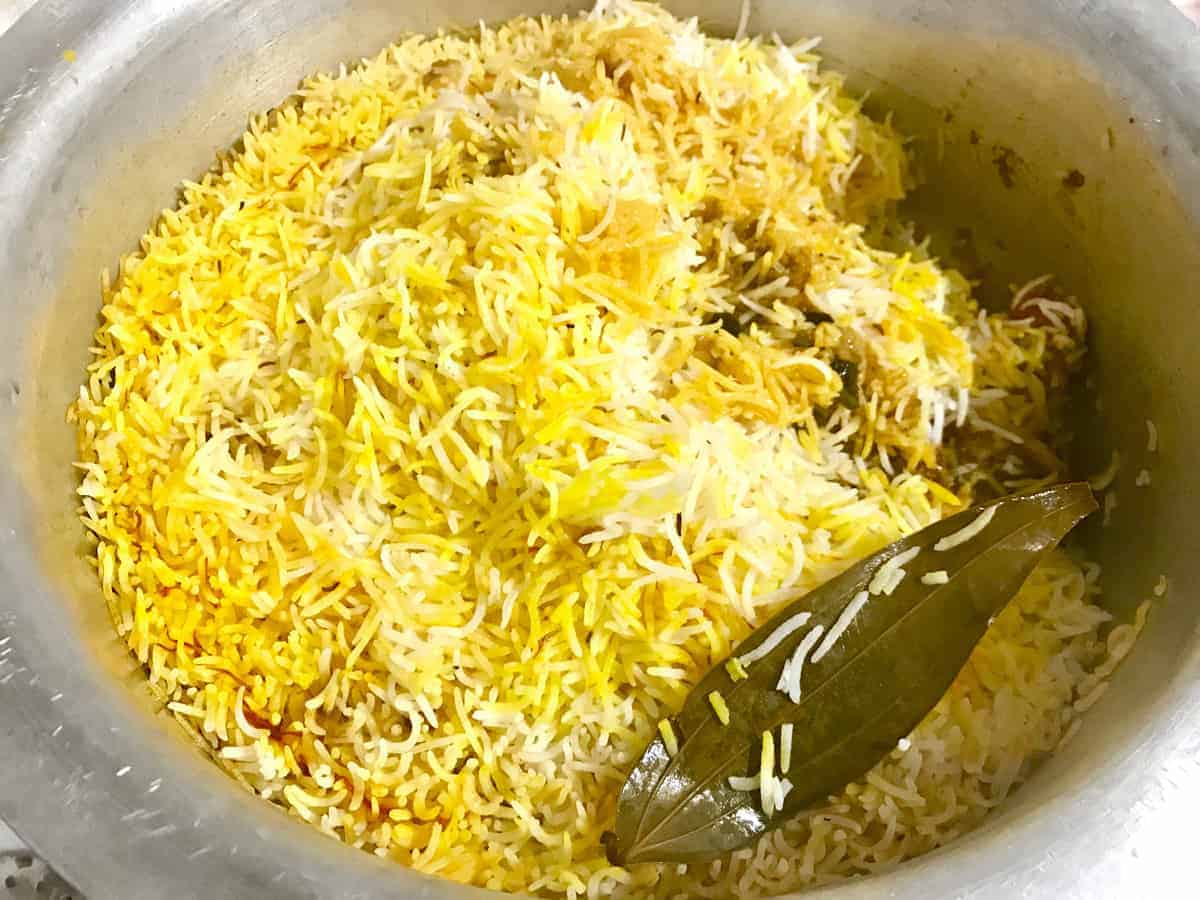 Expert Tips
Rice : Most noteworthy here is, always use aged best quality long grain basmati rice. Never ever compromise on this point. Longer the grains of rice better will be the mutton biryani, both visually as well as in taste. I prefer to use at least 1 year aged Basmati rice for making biryani.
Some people also like to use sella rice as well. Hence you may choose it if you want to. But, the basmati rice is always the winner.
Meat Cut : Personally, I love to use a little large than medium sized pieces of a lamb or goat shoulder meat cut. It gives a nice and tender chunks when cooked perfectly. However, you can use raan (hind leg meat cut) to make mutton biryani.
Marination : Always marinate the meat in masala for at least 2 hours, I prefer the marination overnight. Yes, marination is the soul to any of the biryani recipes except the egg biryani.
Cooking Rice and Biryani : Be sure to cook the rice as mentioned, i.e 90 percent which is exact 9 minutes from the point when rice starts boiling on high heat. Also, do not stir the rice too much while boil as it may break the rice grains, hence, the result will not be as we want it to be.
Lastly, do not use thin bottom pan, always use heavy bottom pan or handi or dutch oven to make the dish. For the final dum, always, cook the biryani on high for 5 minutes and them simmer to dum for 15 minutes. This helps in generating steam well cooking the rice perfectly each time.