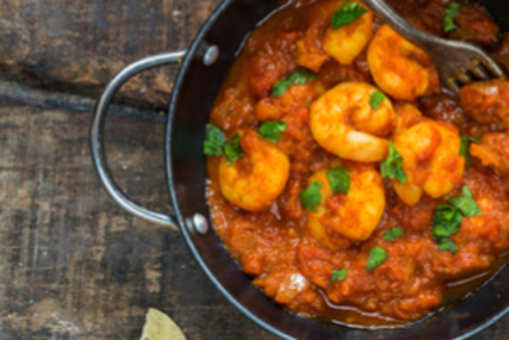 Total Time40m
Prep Time15 m
Calories405
1 kilograms prawns
1 teaspoon turmeric
salt as required
6 green chilli
1 bunch curry leaves
5 dry red chili
1 1/2 cup grated coconut
2 onion
4 medium tomato
water as required
4 tablespoon coriander seeds
2 teaspoon cumin seeds
1/2 cup vegetable oil
2 teaspoon tamarind
How to make Prawn Curry
Step 1: Prepare the masalaTo prepare this delicious prawns curry recipe, start by taking the grated coconut and grinding it up in a grinder. Then, add the red chilies, cumin seeds, coriander seeds into the grinder with a little water and grind it into a paste. In a large bowl, take onions and tomatoes and finely chop them up.
Step 2: Saute onion & add masala pasteThen, put a large pan over medium flame and heat vegetable oil in it for about 2 minutes. When the oil is hot enough, add the chopped onions in it and saute well until they are translucent. Then, add the paste along with turmeric powder and stir well.
Step 3: Add tomatoes, tamarind pulp & waterNext, add curry leaves, green chillies and salt to the pan along with the chopped tomatoes. Fry the ingredients for 8 to 10 minutes. Now, add tamarind pulp to the pan and 3 to 4 cups of water and bring it to a boil.
Step 4: Add prawns to the curry until tenderWhen the ingredients are done, turn down the flame to low and add the prawns. Close the lid to the pan and allow it to simmer till the prawns are tender, cook it for 5-10 minutes.
Step 5: Serve Prawn Curry!When the prawns are done, transfer it to a serving bowl. Now, enjoy the delicious prawn curry with your favourite rice.
Tips:
You can add coconut cream or coconut milk as per your taste.
Garnish your prawns masala curry with freshly chopped coriander leaves.