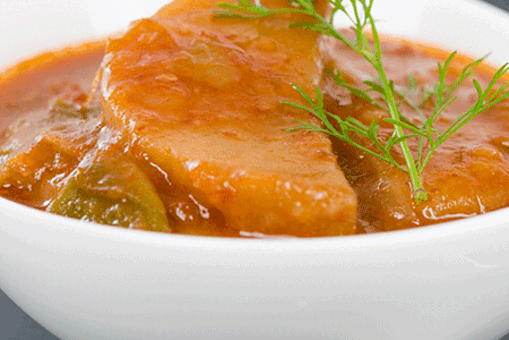 Total Time1h 5m
Prep Time35 m
Calories185
2 cup potato
150 ml yoghurt (curd)
1 teaspoon coriander seeds
1 teaspoon cumin seeds
2 black cardamom
1/2 tablespoon coriander leaves
2 tablespoon sunflower oil
1 teaspoon fenugreek seeds
2 medium onion
5 red chilli
1 teaspoon peppercorns
1 piece cinnamon
2 clove
1 teaspoon ginger
salt as required
How to make Potato Masala Gravy
Step 1:L Dry roast the spiceTo make your very own Potato Masala Gravy, take a pan and roast coriander seeds, cloves, cinnamon, cardamom, ginger, chopped red chillies, chopped coriander, peppercorns and cumin in it. This is especially important for the flavour to develop. Keep them aside and let them cool down. Once cooled down, put them in a blender and blend into a powder.
Step 2: Boil the potatoesTake the potatoes now and boil them, peel them once boiled. Then take a fork or toothpick and poke a few holes in it. Then take the yoghurt in a bowl and put the potatoes in the curd. Let them soak nicely in the curd for about half an hour.
Step 3: Add chopped onions in a panNow take a pan and heat oil in it. Add chopped onions into the pan and fry them for some time. Then add the potatoes that had been soaking in the curd for a while.
Step 4: Sprinkle some chopped coriander leaves and potato masalaNow add some water in the pan to make the gravy. Also put the powder prepared earlier. Let it cook at a low flame such that the gravy becomes thick and creamy. Once done, take it out in a big serving bowl.
Step 5: Ready to be servedSprinkle some chopped coriander leaves on top. Your Potato Masala Gravy is ready. Don't forget to like, rate and comment in the section given below.