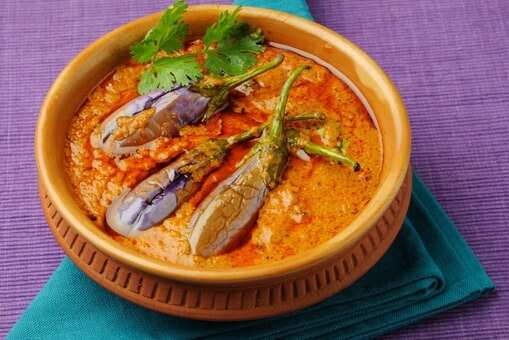 4 medium eggplant/ brinjal
1 teaspoon mustard seeds
1 stalk curry leaves
1 cup onion
1 teaspoon kashmiri red chilli
2 tablespoon coriander leaves
salt as required
1 teaspoon sesame seeds
1 tablespoon coconut powder
1 teaspoon ginger
2 clove
2 tablespoon vegetable oil
1 teaspoon cumin seeds
1 green chilli
1 teaspoon turmeric
1/2 cup tamarind extract
water as required
2 tablespoon roasted peanuts
1/2 teaspoon coriander seeds
1/2 inches cinnamon
1 teaspoon garlic
How to make Gutti Vankaya Curry
Step 1: Slit the brinjals and dip in salt waterFirstly slit the brinjals into four parts without removing the stalk. Dip them in 2 cups of water along with 1 teaspoon of salt. Keep them aside for 15 minutes.
Step 2: Prepare masala for stuffingIn order to prepare the masala for stuffing, roast peanuts, sesame seeds, cloves, cinnamon stick and coriander seeds. Roast on low flame for 2-3 minutes. Now add dry coconut and roast again for a minute. Let it cool down a bit and add the mixture to a blender. Also add garlic, ginger, green chilli, 1/4 cup onion, 1/2 tsp turmeric, salt and 1/2 tsp red chilli powder. Add 2-4 tbsp water and blend to form a thick paste.
Step 3: Stuff the brinjalsNow stuff the slit brinjals with the prepared masala and keep them aside.
Step 4: Prepare the curryNow heat oil in a pan, add curry leaves, mustard seeds and cumin seeds. Add 3/4 cup onions and stir fry until golden. Add 1/2 tsp turmeric and 1/2 tsp red chilli powder.
Step 5: Add stuffed brinjalsNow add stuffed brinjals to the pan and cook for 2-3 minutes. Add tamarind extract and stir well. Now cover the pan and let it cook for 15 more minutes. Stir occasionally.
Step 6: Garnish and serveAdjust the salt as per taste. Garnish with coriander leaves and serve. Make sure you try this recipe, rate it and leave a comment in the section below.