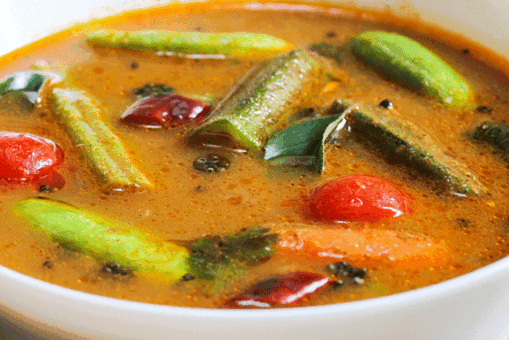 7 scraped drumstick
1/2 teaspoon mustard seeds
1 pinch asafoetida
1 chopped green chilli
3 finely chopped tomato
1/4 teaspoon powdered turmeric
1 teaspoon cumin powder
1 tablespoon curry leaves
1 1/2 tablespoon powdered jaggery
1 1/2 tablespoon refined oil
1/2 teaspoon cumin seeds
8 cloves chopped garlic
2 medium chopped onion
1 teaspoon red chilli powder
3 teaspoon coriander powder
1/4 teaspoon garam masala powder
3 pinches salt
How to make Drumstick Curry
Step 1: Boil two cups of water. Add 1/2 tsp of salt. Add drumstick pieces and cook until soft. Once done, drain the extra water.
Step 2: Heat oil in a pan over medium flame. Add mustard seeds and allow them to splutter. Then add cumin seeds and a pinch of asafetida. After few seconds, add chopped green chilies and garlic and saute for 1-2 minutes.
Step 3: Now add onions and saute them on low flame until they turn pink. Add chopped tomatoes and cook for another 2-3 minutes until they become mushy and separate from the oil.
Step 4: Once the onion-tomato mixture is cooked, add turmeric powder, red chilli powder, coriander powder, cumin powder and garam masala and stir-fry for a while.
Step 5: Now add cooked drumsticks and mix well. Add about 1/2 cup of water (drained) and cook for 3-4 minutes on medium flame.
Step 6: Add salt and jaggery and cook for 3 minutes more. Garnish the side dish with curry leaves. Serve hot with hot steamed rice or parathas.