Spicy Chicken Curry Recepi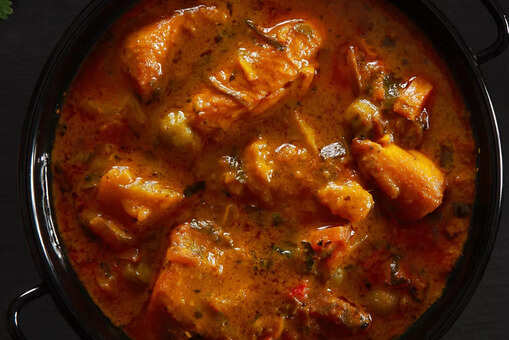 Total Time1h 10m
Prep Time10 m
Calories544
1 Serving2 Servings3 Servings4 Servings5 Servings6 Servings7 Servings8 Servings9 Servings10 Servings11 Servings12 Servings13 Servings14 Servings15 Servings16 Servings17 Servings18 Servings19 Servings20 Servings
1 kilograms chicken
1/2 cup tomato puree
1 tablespoon garlic paste
1 cinnamon stick
1 bay leaf
1 tablespoon garam masala powder
1 tablespoon kasoori methi powder
2 1/2 cup water
2 onion
1 tablespoon ginger paste
1 cup cashews
1 teaspoon cumin seeds
3 red chilli
1 tablespoon coriander powder
2 tablespoon vegetable oil
For Marination
salt as required
1/3 cup lemon juice
1 teaspoon turmeric
For Garnishing
1/2 handful coriander leaves
How to make Spicy Chicken Curry
Step 1 Wash the chicken & saute the whole spicesFirstly, wash the chicken under running water and keep it aside. Now, take a non-stick pan and pour little oil in it. Then add whole spices – cumin seeds, cinnamon seeds and bay leaf. Let them cook until the seeds start to crackle.
Step 2 Marinate the chicken & prepare onion, cashews & red chillies pasteOn the other hand, marinate the chicken with salt, turmeric powder and lemon juice and keep it aside for 20-30 minutes. Now, using a grinder, grind onion and 1 cup of water to make a puree of thick consistency. Put aside till required. Wash the grinder and put cashews in it and add 1 cup of water. Make a paste of cashews of smooth consistency. Again, wash the grinder and grind red chillies with 1/2 cup of water to form a paste of thick consistency.
Step 3 Cook the onion & tomato puree with the lid onNext, in the pan with the whole spices, add onion puree with ginger and garlic paste and cook it for 2 minutes. Add tomato puree to the pan and cook for another 2 minutes. Meanwhile, add salt to taste and red chilli paste. Cover the pan with a lid.
Step 4 Add the marinated chicken & cashews & red chilli pasteThen add the marinated chicken pieces in the gravy and let it cook for more 15-20 minutes with the lid on the pan, after 15-20 minutes, check if the chicken pieces are cooked properly. Now, add cashews and red chilli paste into the mixture and cook for another 2 minutes.
Step 5 Add the spices & cook the chickenNow add garam masala, coriander powder, cashew nut paste and Kasuri methi and mix them all well. Let the chicken curry cook for another 5 minutes and then turn off the flame. Garnish the curry with fresh coriander leaves and serve hot with steamed rice or paratha.
Tips
Use mustard oil or ghee to prepare this chicken curry for best taste.
Try to slow-cook the chicken curry with the lid on. It might take more time but the taste and aroma will be worth it.
Do not skip the whole spices in this recipe as they are really important to enhance the taste.